Here's How to Make Crispy Air Fryer Tofu cooked in just 10 minutes! This tofu is delicious, easy to make and great for meal prep!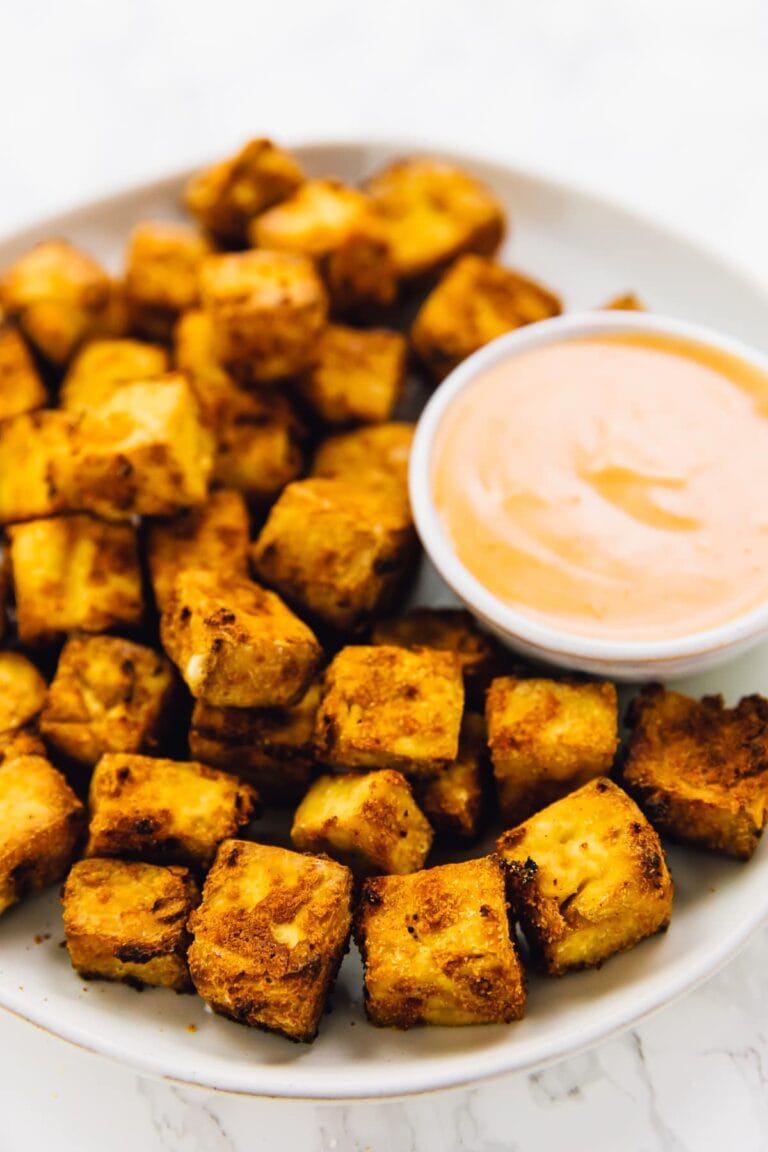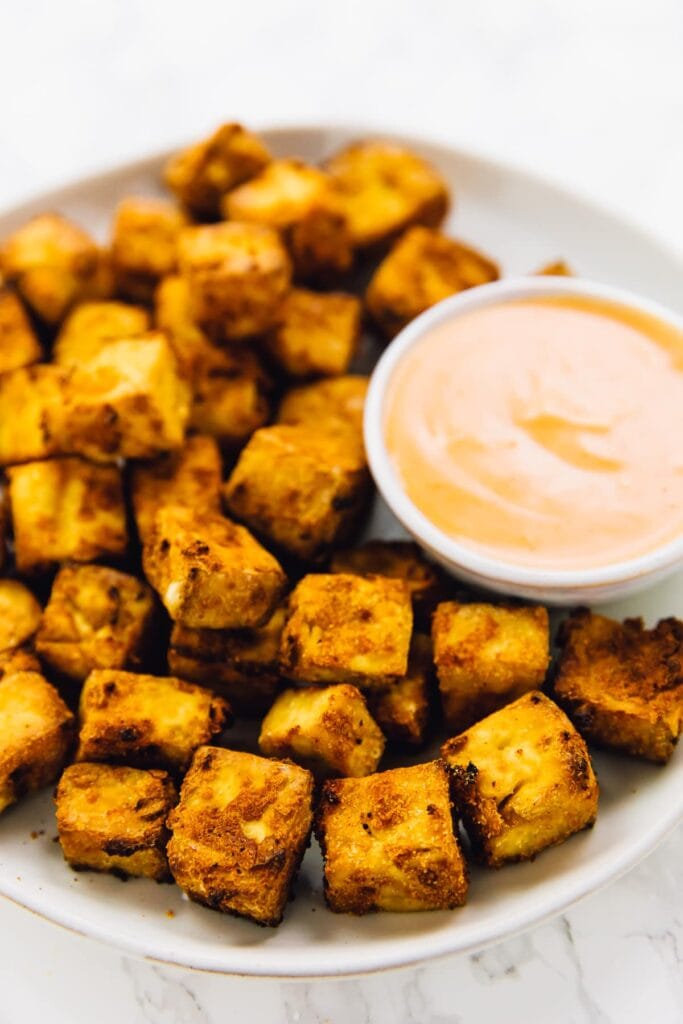 When thinking about true protein packed low carb meals one of the first things that came to my mind was this Air fryer tofu! What I love the most about this recipe is how simple it is. But it's in this simplicity that some truly bold flavours come about! These are so tasty that Gav and I are known to pop them in our mouth as the day goes by. They serve as a nice pick me up and an excellent protein kick.
Apart from eating them as is. They're perfect to have with our amazing low carb sides like our Vegan Mashed Cauliflower and our Pesto Zucchini Noodles with burst tomatoes. This recipe is so versatile that I mostly think of it as the perfect protein addition to any dish that you may feel needs the help.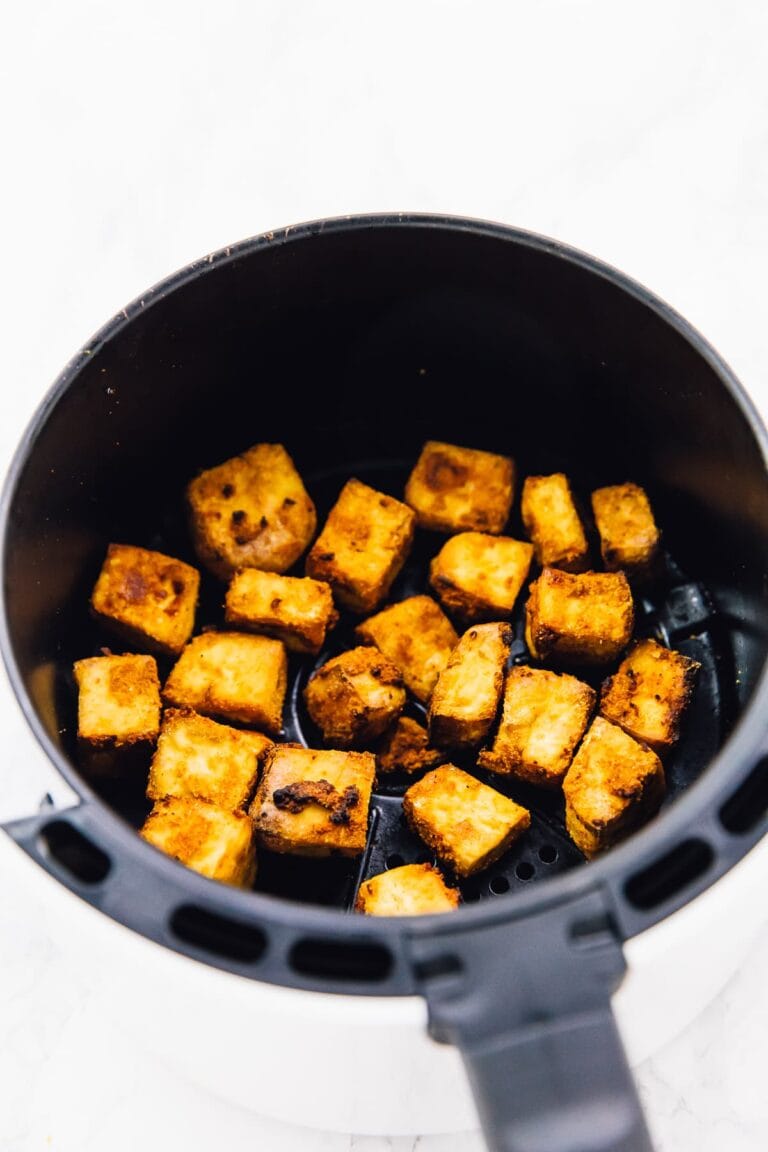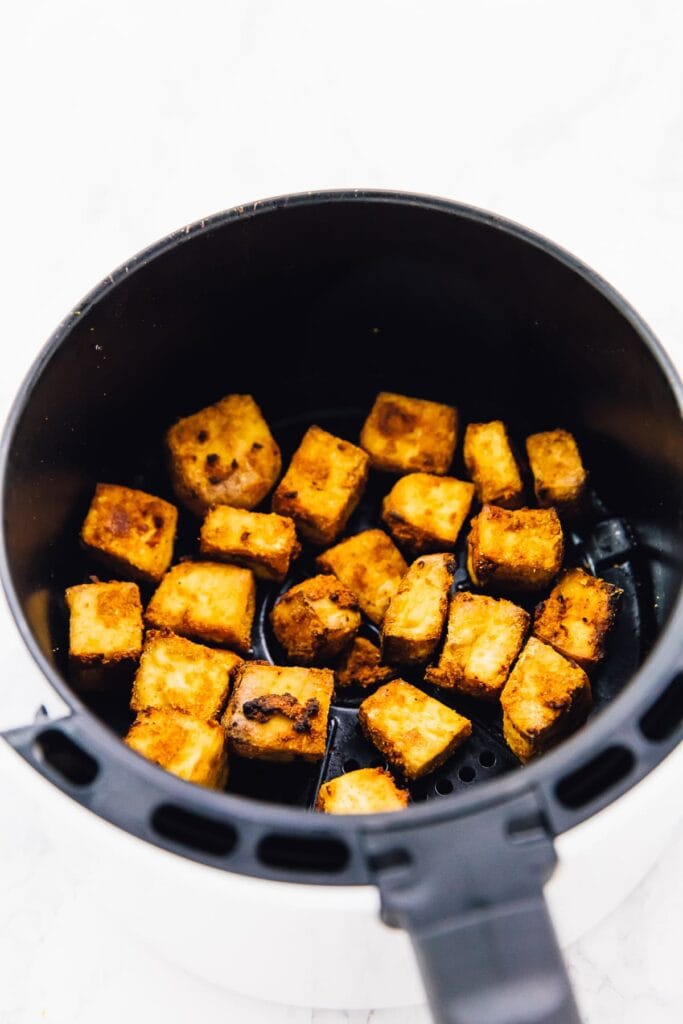 What's an air fryer?
An air fryer is much pretty exactly what it sounds like. It's a small countertop high powered convection oven that through its cooking process, essentially cooks whatever you place in it as if it was being fried, except with air. Yes, that's right, and it works too! Our air fryer is our most used device in our house and I would highly recommend everyone get one. My mom first asked for one and we were all shocked at what it could do. Fast forward a year later and I wanted one as a gift too. We make everything from carrot fries (that are crispy, delicious), to burgers, low carb toast, crispy roasted breadfruit, and even plantain. I love the inside out crisp it gives everything and how quickly it works too.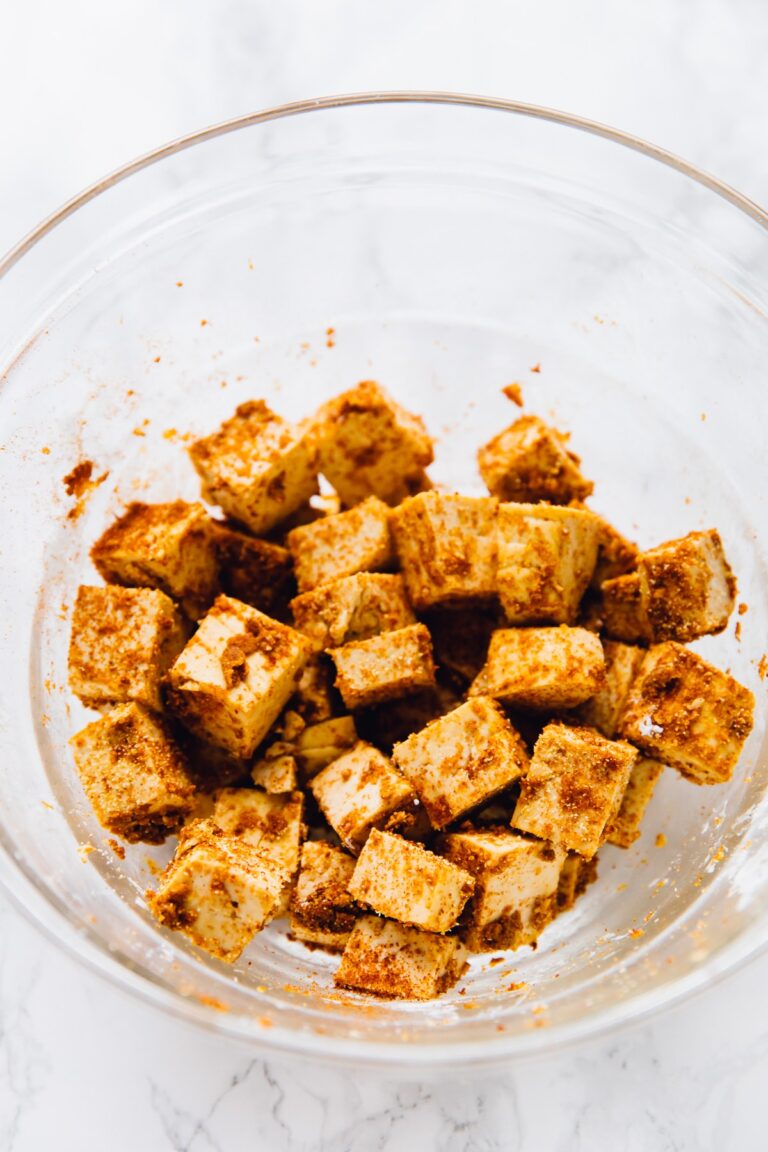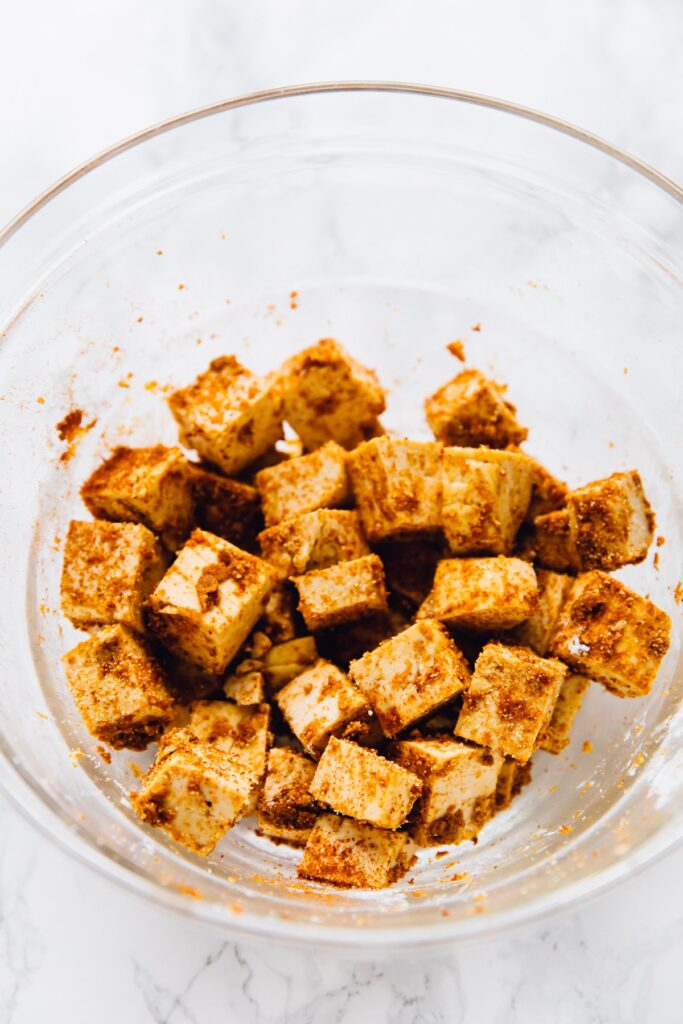 How to make air fryer tofu
Making air fryer tofu is so easy and results in the crispest tofu in such a short time. You season the tofu with the seasoning ingredients plus the liquid aminos (or tamari or soy sauce if you aren't gluten-free) and the tiniest amount of sesame oil. I personally like including a little oil for the whole batch cause it really crisps up the tofu but yes, you can skip it.
In that seasoning mix, we have our star ingredient to coat – cornstarch! I mentioned in my how to cook tofu guide that cornstarch is a very useful and even crucial ingredient in yielding deliciously crisp tofu without frying it. It helps to dry out any excess water left after pressing the tofu.
This crispy air fryer tofu takes 10 minutes. YES, I'm so serious. First, you shake the basket after about 5 minutes of air fryer to ensure nothing is sticking, then let it keep cooking. You can serve it alone or with a dip, or literally anything your heart desires. You can even switch up the seasoning mix. Here are some ideas as to how: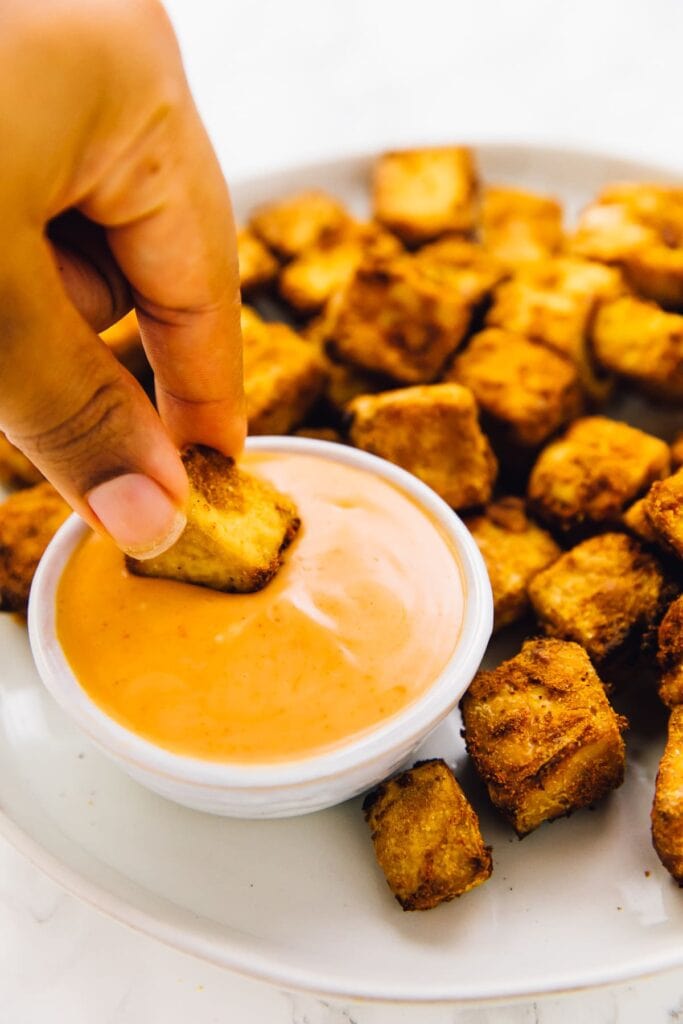 Italian seasoning with dried parsley, oregano, and dried basil
Bbq seasoning
Cajun seasoning
The options are up to you!
I hope you love this air fryer tofu friends and totally make it your own! Eat up and enjoy!
How many carbs are in Crispy Air Fryer Tofu?
This recipe is 4.3g of carbs and 2.7g of net carbs. If you want more info on what that means, be sure to check out our FAQ page.
Enjoy friends! If you make this post about How to Make Crispy Air Fryer Tofu please snap a photo and tag #lowcarbveganrecipes on Instagram! We'd also love it if you would leave a comment below, and give the recipe a rating! Thanks so much! P.S. Want more vegan recipes? Check out my blog Jessica in the Kitchen!
Yield: 4
Crispy Air Fryer Tofu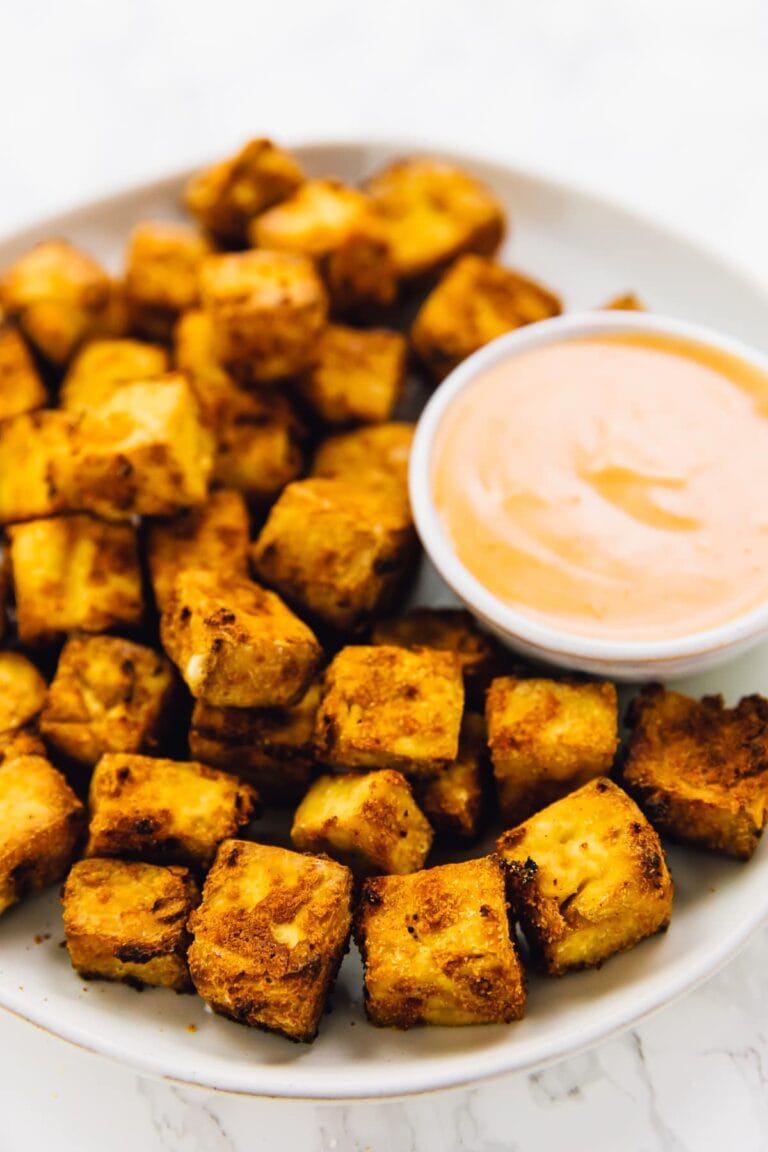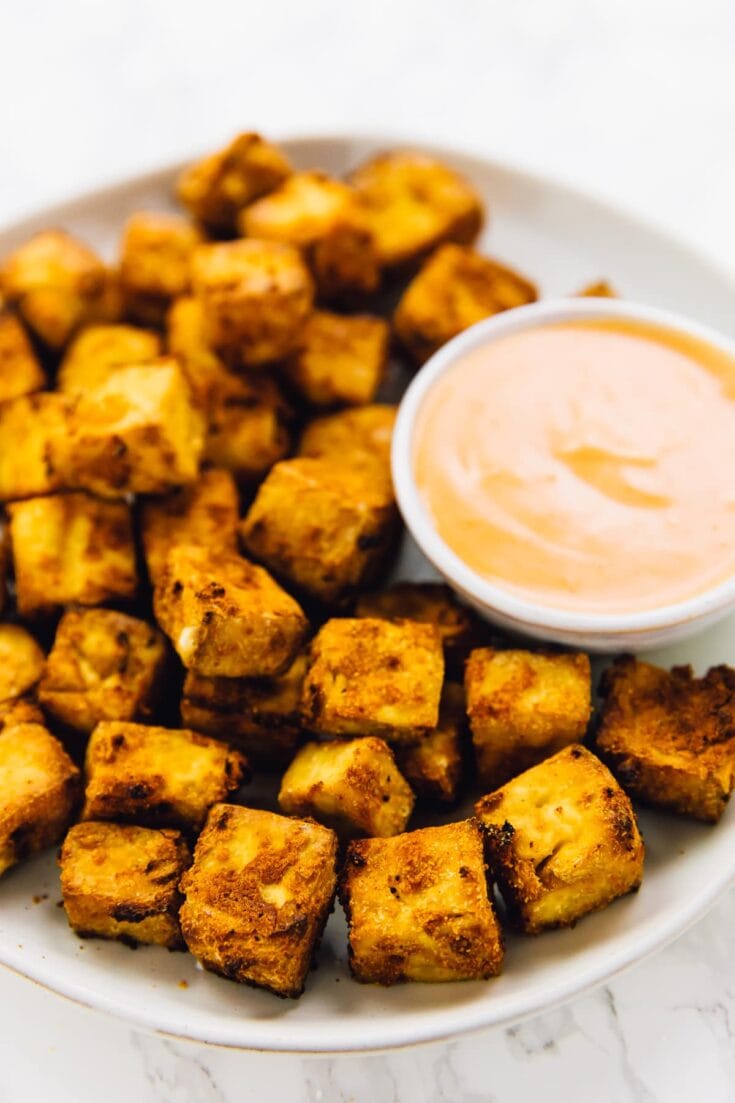 Here's How to Make Crispy Air Fryer Tofu cooked in just 10 minutes! This tofu is delicious, easy to make and great for meal prep!
Ingredients
1 lb 16 oz. block of extra form tofu, pressed for 30 minutes then cut into 1" cubes
1 teaspoon garlic powder
½ teaspoon onion powder
1 teaspoon paprika
½ teaspoon sea salt
2 teaspoons cornstarch
½ tablespoon liquid aminos
½ teaspoon sesame oil or any oil
¼ teaspoon ground black pepper
Instructions
In a medium-size bowl place the pressed and cubed tofu. Add in liquid aminos and toss to coat. Add in all of the other seasoning ingredients and toss to thoroughly combine.
Place in your air fryer in a single row, so that all the tofu has a little bit of space around each piece. Set your air fryer to 400 degrees F. Cook, for 10 minutes, shaking the basket after 5 minutes, then continuing to cook.
Remove after the tofu is cooked. Allow to cool for a few minutes then serve. Enjoy!
Notes
If you have a smaller air fryer, you're going to want to split this into two batches because you definitely don't want to tofu to be crowded. Give them enough space. In my smaller air fryer, I need two batches.
I'm sure all air fryers are different so be sure to see if your tofu may need an extra 5 minutes. Mine was perfect after 10 minutes!
Nutrition Information:
Serving Size:
4
Amount Per Serving:
Calories:

116
Total Fat:

7.1g
Saturated Fat:

.9g
Sodium:

334mg
Carbohydrates:

4.3g
Net Carbohydrates:

2.7g
Fiber:

1.6g
Protein:

9.7g