This Vegan Low Carb Chocolate Chia Pudding is made with only 5 ingredients! It's healthy, high fibre, absolutely delicious and a filling breakfast option! It's also great for meal prep!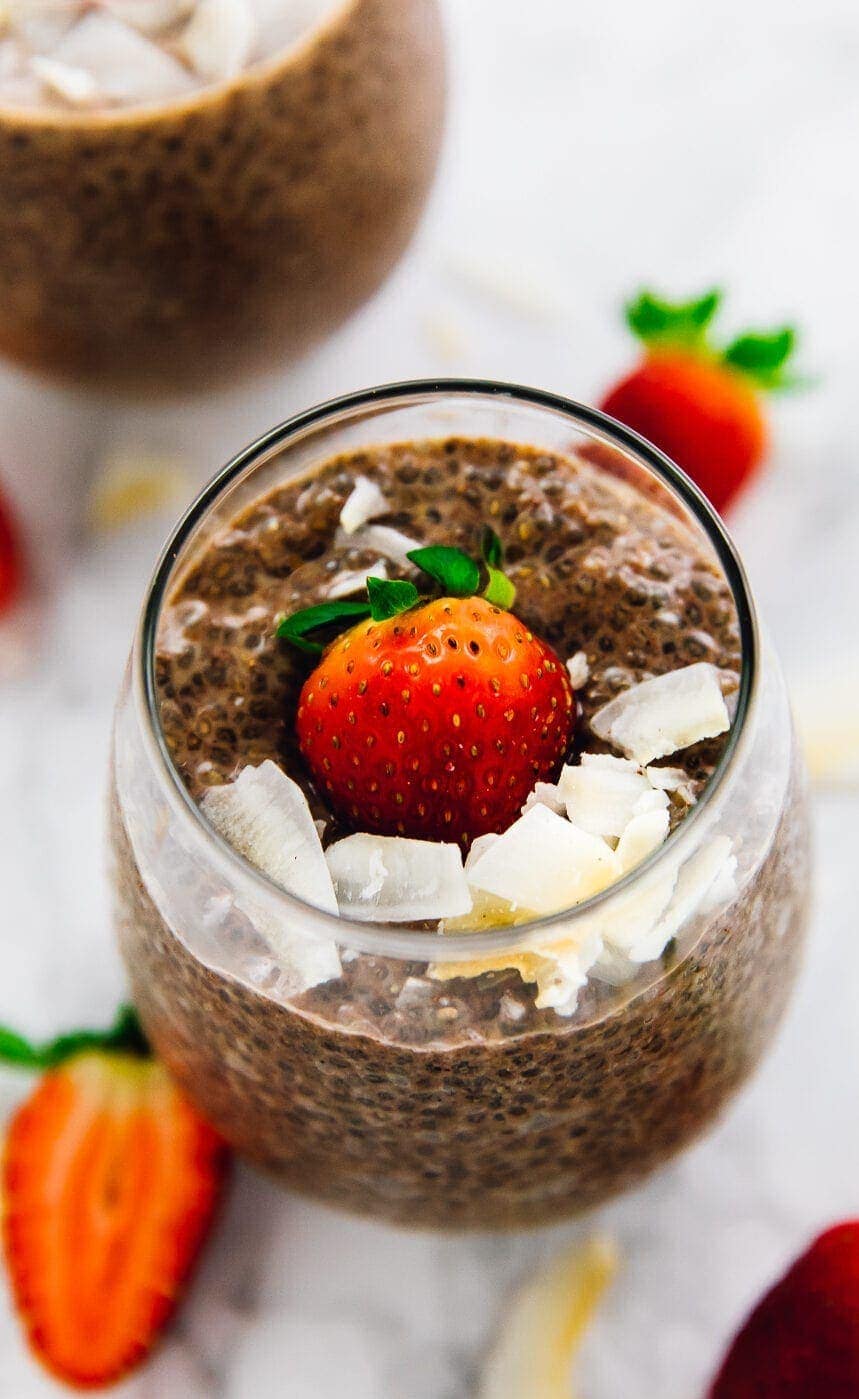 I've been making this chocolate chia pudding so long that I can't even remember the first time I made one. It's one of my favourite go-to breakfasts, especially on a busy morning (hello meal prep) so it's crazy that I haven't made way more versions for the blog! Anyway, since we are getting back into meal prepping more often at home, you'll definitely be seeing way more chia puddings and way more meal prep options.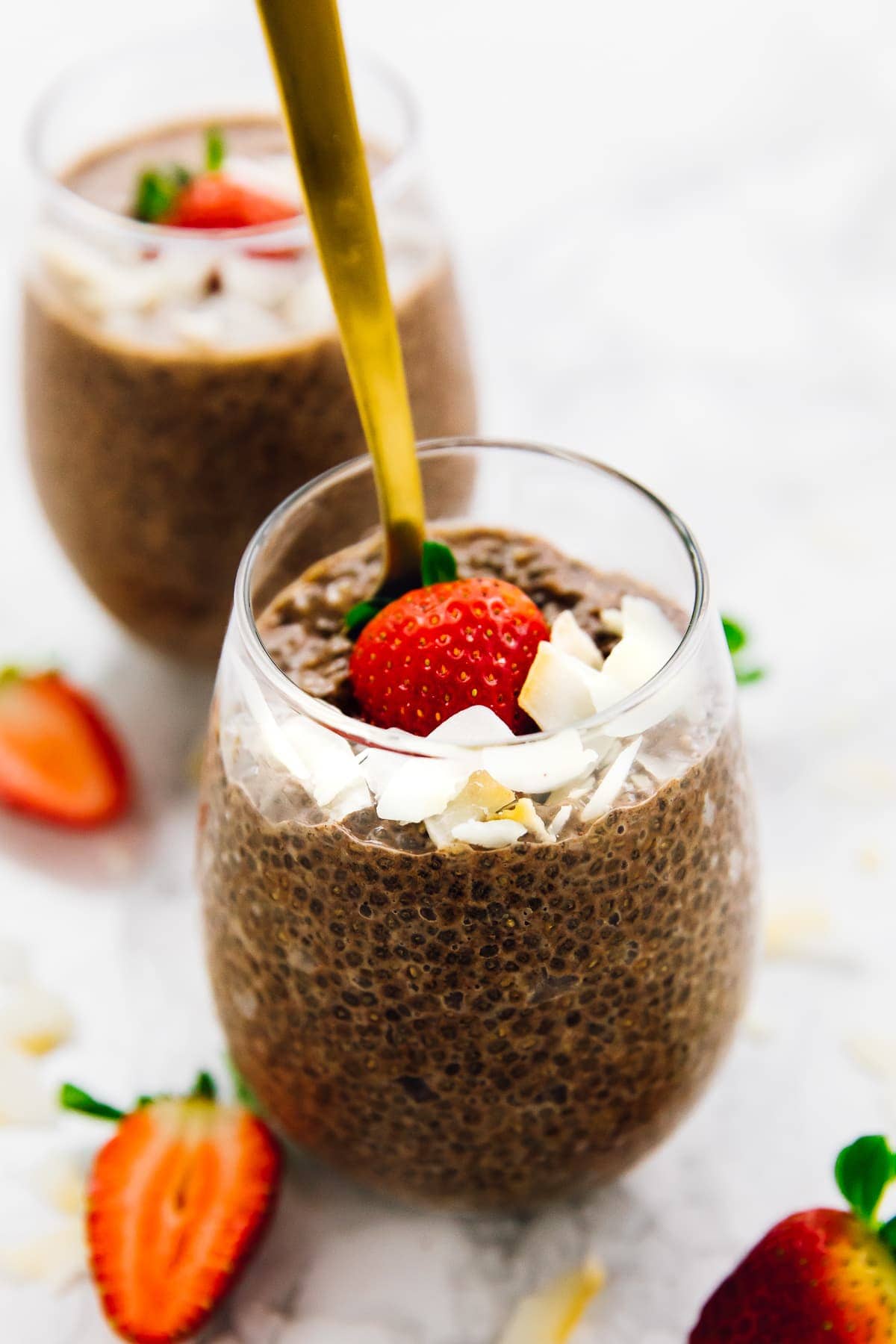 What are chia seeds?
Maybe chia seeds are one of your favourite ingredients, or maybe you've never used them. Let me pull an extract from one of my blog posts where I explained often confusing vegan ingredients,
Chia seeds are a tiny seed that means "strength" in Mayan, and I'm assuming it's because the chia seed gives you lots of energy. They are tiny black seeds that get gelatinous when they absorb water, similar to flax seeds, and are loaded with fibre. You can use chia seeds in a multitude of ways – in your water to add fibre to your daily diet, as a great egg replacement too and really anywhere you want more protein and fibre. Due to their high fibre content, they help to keep you really full – which is why I like to sprinkle them over fruits or in overnight oats. They're also high in omega 3's so you can enjoy them daily! I've even added them to a jam to replace pectin (since they get so gel-like).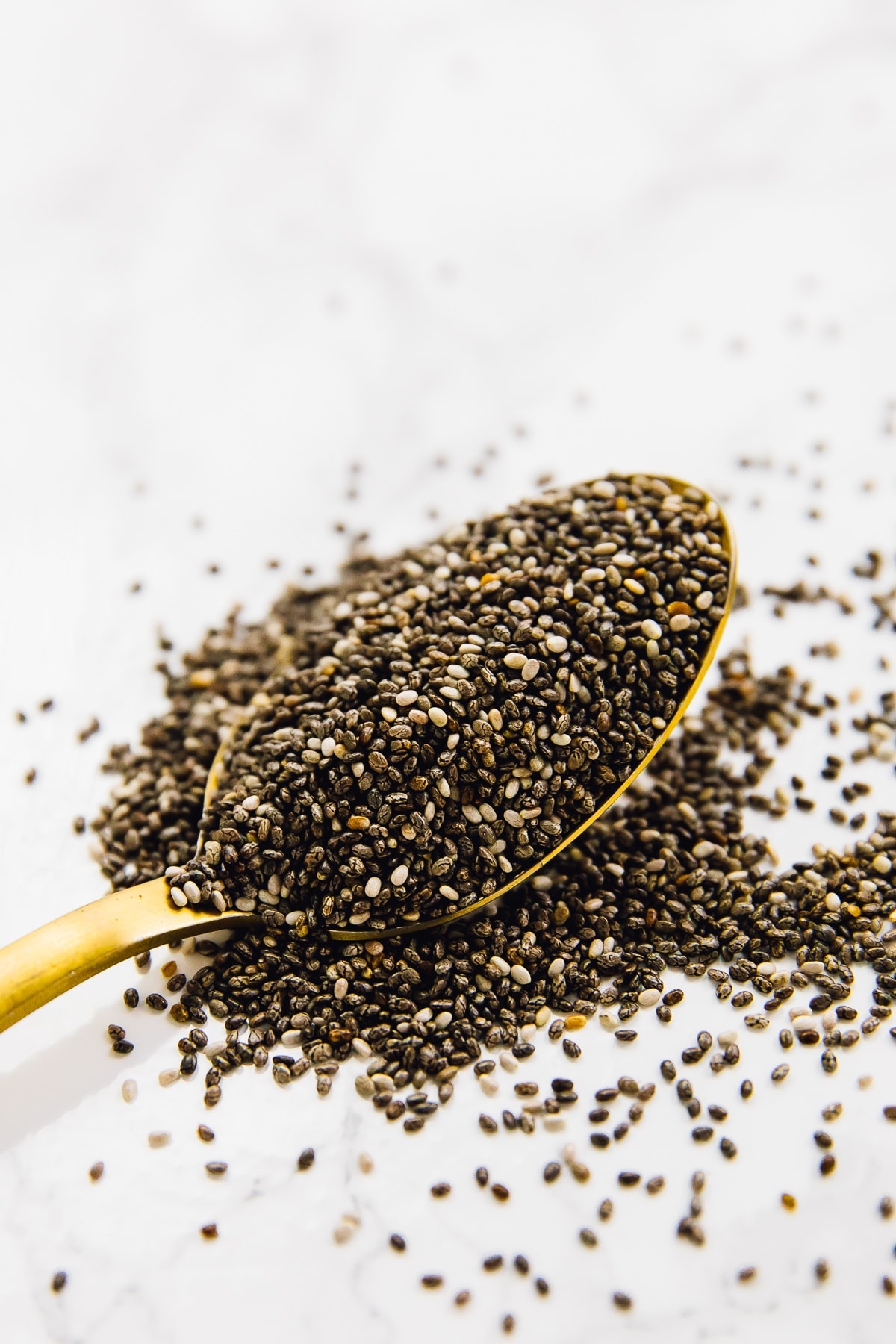 Consequently, chia puddings are puddings made typically with chia seeds, a liquid, a sweetener and an optional topping or spice. They are thick, pudding-like in texture, and very easy to make. For this version, I opted for a Chocolate Chia Pudding because well, I love chocolate, and it tastes like having dessert for breakfast!
How to make chia pudding
Making vegan low carb chocolate chia pudding is so simple. I'll explain how to make this one. Firstly, I like to mix the chia seeds with the cocoa powder and stir with a fork. Then I pour in the almond milk, the Lakanto monk fruit sweetener and the sea salt and whisk thoroughly until everything is combined. I let it sit for five minutes, then I stir again. Something about this second stir really ensures that all the chia seeds are properly incorporated. Then I let the fridge do its magic. The chia seeds absorb the liquid, create a thick and gelatinous texture. What results is pure heaven. Delicious, thick, creamy and so filling.
Meal prepping chia pudding
If you're looking for an incredibly quick breakfast option, this chocolate chia pudding is IT. Since they take between 5 and 10 minutes of prep, you could easily make chia puddings for the entire week all at once. We love to meal prep chia puddings because of the ease, how filling it is, and because it's one of the few breakfasts that will last you the entire week in the fridge without a change in taste.
Here's how I meal prep vegan low carb chocolate chia puddings. I usually line up like 5 (or however amount I'm meal prepping) jars. I love using Weck Jars and mason jars for this, plus they look so neat lined up in your fridge. Then I will make the below recipe "5 times", or make it 5x in a large bowl, then divide it up. It's honestly up to you. I find the first way easier so I don't have a bowl to clean up, and if you're tracking macros or calories then you know you have an even amount in each. See all the nutritional information below in the recipe!
Tips for making chia pudding
Woohoo, tip time! Here are some super simple tips:
Make sure you have fresh chia seeds! If your chia seeds don't begin to absorb liquid by the 5 minute stir time, then they've probably gone bad.
Feel free to up your liquid amounts or your chia seed amounts. This chia seed to liquid ratio makes for a nice and thick pudding, but you can add more if you want or more liquid if you want yours slightly thinner.
While this chia pudding is ready in 4 hours, I would let it sit overnight. Overnight chia pudding REALLY is the best kind. All the flavours have melded together, and your pudding is at the best consistency.
Remember that you can easily double or triple this recipe. I just did it at a single serving since that's how I usually have it.
How many carbs are in Chocolate Chia Pudding?
This recipe is 25g of carbs and 4g of net carbs. If you want more info on what that means, be sure to check out our FAQ page.
Enjoy friends! If you make this post about Vegan Low Carb Chocolate Chia Pudding please snap a photo and tag #lowcarbveganrecipes on Instagram! We'd also love if you would leave a comment below, and give the recipe a rating! Thanks so much! P.S. Want more vegan recipes? Check out my blog Jessica in the Kitchen!
Yield: 1
Vegan Low Carb Chocolate Chia Pudding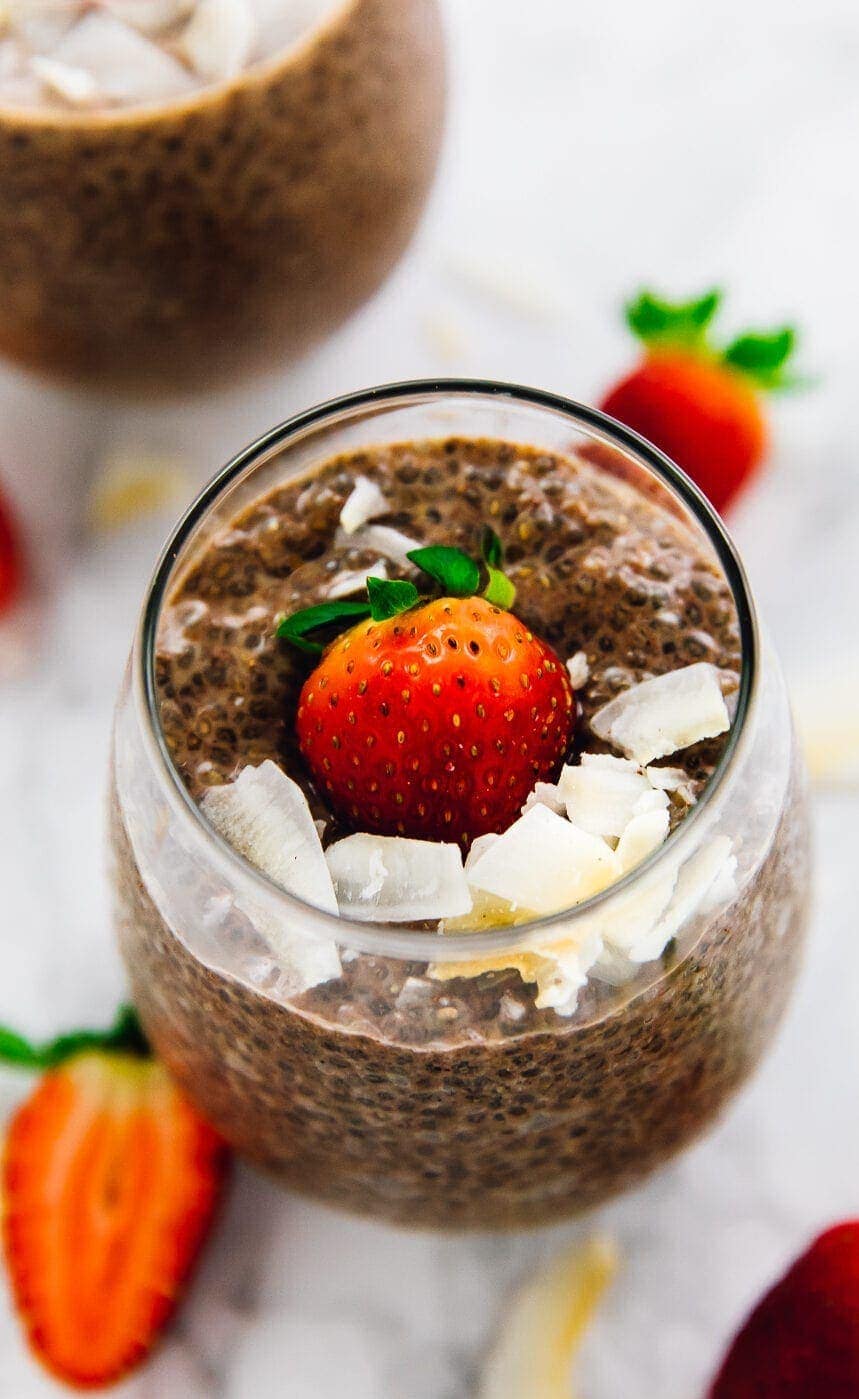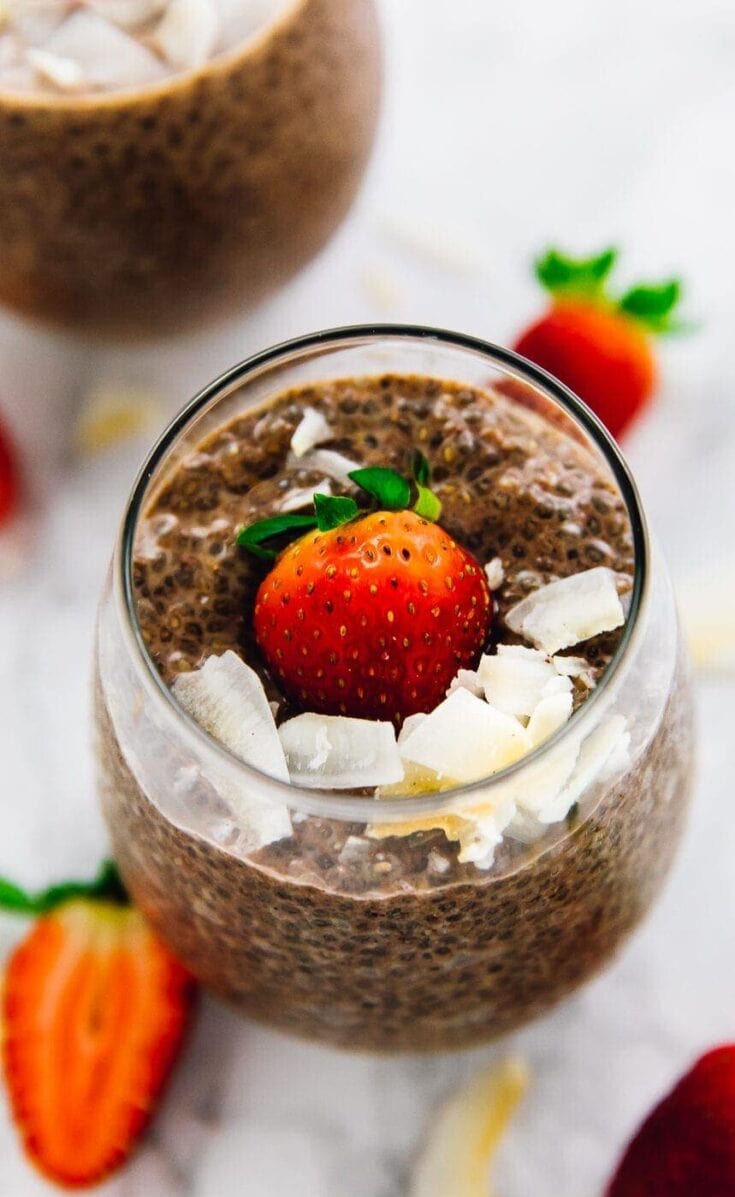 This Chocolate Chia Pudding is made with only 5 ingredients! It's healthy, high fibre, absolutely delicious and a filling breakfast option!
Instructions
In a bowl or in an individual jar, mix all of the ingredients together with a whisk. Stir until completely combined. Let it sit for 5 minutes, then stir again for about a minute. This ensures everything is thoroughly mixed and nothing clumps together in spots. Taste test and adjust based on whether you want more sweetener or spices.
Set in the fridge covered for 4 hours or overnight.
Remove from the fridge and top with your favourite toppings - here I like sliced strawberries and coconut flakes.
Serve and Enjoy!
Notes
If you use the code VEGANLOVE20 while checking out at Lakanto, you'll get 15% OFF your order!

You can easily double or triple this recipe. If you're meal prepping, just portion the above into individual containers. They'll last the week!

If you're like my husband the texture weirds you out, just grind them down first!
Can you freeze chia pudding?!

Yes, you can! Just put it in a freezer-friendly container, then in the freezer. Thaw in the fridge overnight! Depending on the ending texture, you may want to throw a little bit of almond milk on top if it's now too thick.
Nutrition Information:
Yield:
1
Serving Size:
1
Amount Per Serving:
Calories:

220
Total Fat:

15g
Sodium:

680mg
Carbohydrates:

25g
Net Carbohydrates:

4g
Fiber:

21g
Protein:

8g
Nutritional content may vary slightly depending on the specific ingredients/products that you use.