These Vegan Quiche Muffins are like vegan egg muffin cups and are my current go-to breakfast and lunchbox snack! They are loaded with protein and so much flavour!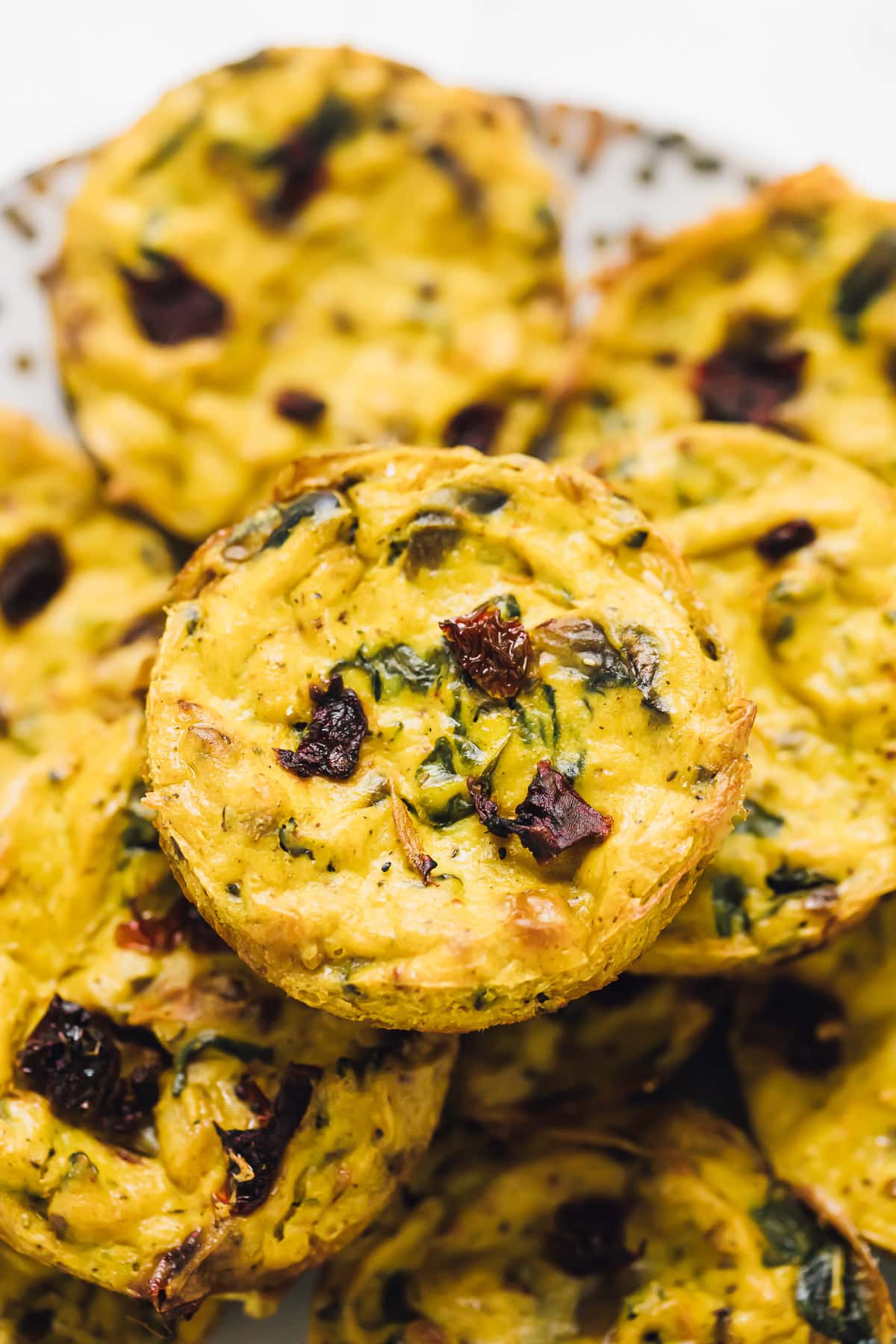 Here's a fun fact for you: When I was vegetarian, a nice large slice of quiche with a side salad was one of my favourite brunch/lunch options. The things I loved the most were the flavourful fillings and the eggy texture. In Jamaica we had Spinach Quiche but also had Callaloo Quiche – I love both so I always alternated between them. In fact, at my bridal shower, there was Ackee quiche which completely blew my mind at how delicious it was.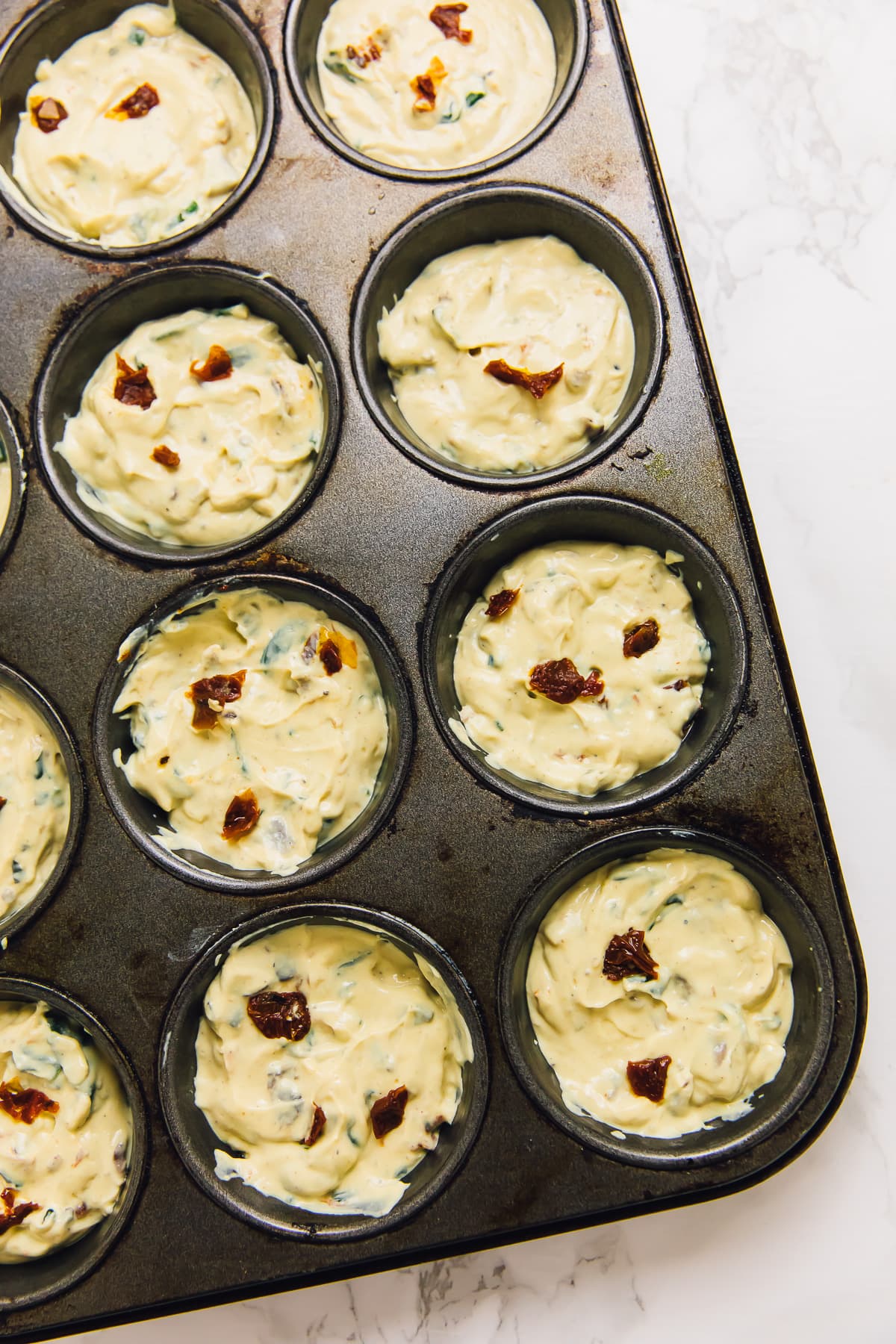 Vegan Quiche Muffins
Fast forward to today and I'm so happy and proud to present these Vegan Quiche Muffins with Sun-dried Tomatoes and Spinach. They take me right back to those brunch days, but in an even better way. These Quiche Muffins are even more versatile than a slice of quiche:
They are the perfect size for a quick and light breakfast.
They are packed with delicious protein.
Even better – they can be eaten hot or cold. Perfect for lunchboxes for kids and adults alike
Great for breakfast meal prep and on the go breakfasts
You can switch up the fillings easily. I highly recommend keeping the sun-dried tomatoes though. I love how brine-y they are.
The flavours are SUPERB.
I can see these out for appetisers or brunch. So versatile.
Long story short, these quiche muffins are bound to make your day. Gav couldn't stop going on about how much they tasted exactly like eggs. You're probably wondering – okay – what are they made with?! Tofu. YES, tofu.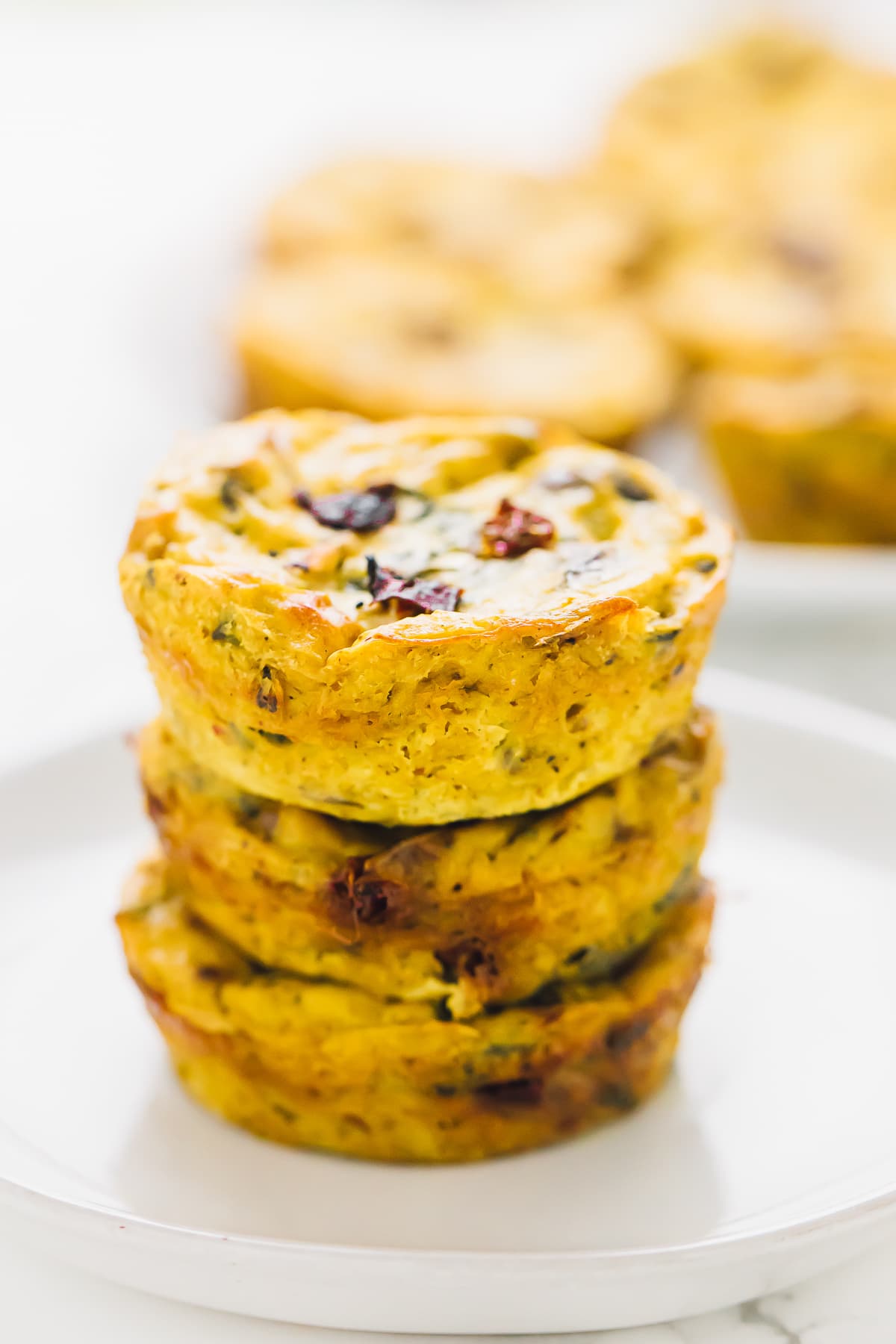 I was shocked too. I've always heard about using chickpea flour for these, but my first and last experience with it was terrible. I used a recipe for "scrambled eggs" with it and it was a gloopy mess. I plan to make my own one day, but for now, I wanted to stick with an ingredient I'm perfectly familiar with. You see, tofu takes on any flavour you give it. I think that's why people are so wary of it because they don't season it properly.
How to Make Vegan Quiche Muffins
Making these couldn't be easier. You start by pressing your tofu. While it's pressing, you can start prepping your ingredients. I love to saute down all the seasonings and quiche ingredients (spinach, mushrooms, onions, sun-dried tomatoes etc.) to really pull out their flavours.
Then, you blend the tofu with all the quiche-like seasonings. Don't skip on these beautiful seasonings. Every drop serves a purpose in transforming these. I also highly recommend blending these in the strongest blender that you own. You want to focus on the beautiful, smooth, eggy texture of these. Then fold in your spinach, mushrooms etc. from earlier, pour into your muffin tins, bake, and enjoy!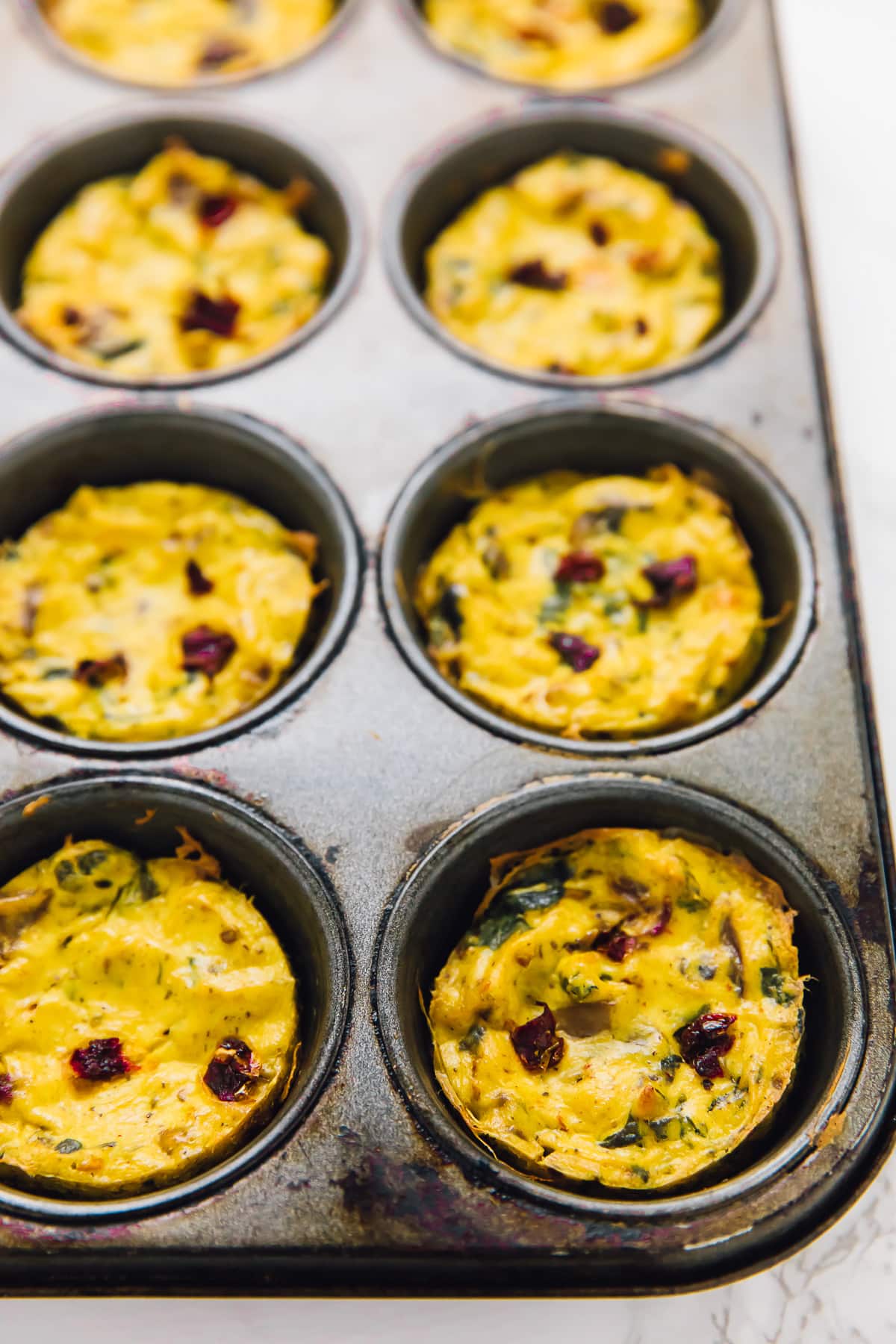 How to Store Vegan Quiche Muffins/Vegan Egg Muffin Cups
Lastly, these Vegan Quiche Muffins are amazing for meal prep. I mean, easy to prep, easy to bake, easy to store. I love storing them once cooled in a glass Tupperware container stacked on top of each other.
YES, you can freeze these Vegan Quiche Muffins too! Tofu always tastes better after freezing so rest assured it'll work perfectly here. I freeze them on a baking sheet for an hour, then once frozen, stack them into one of my favourite reusable silicone zipped bags (aff. link).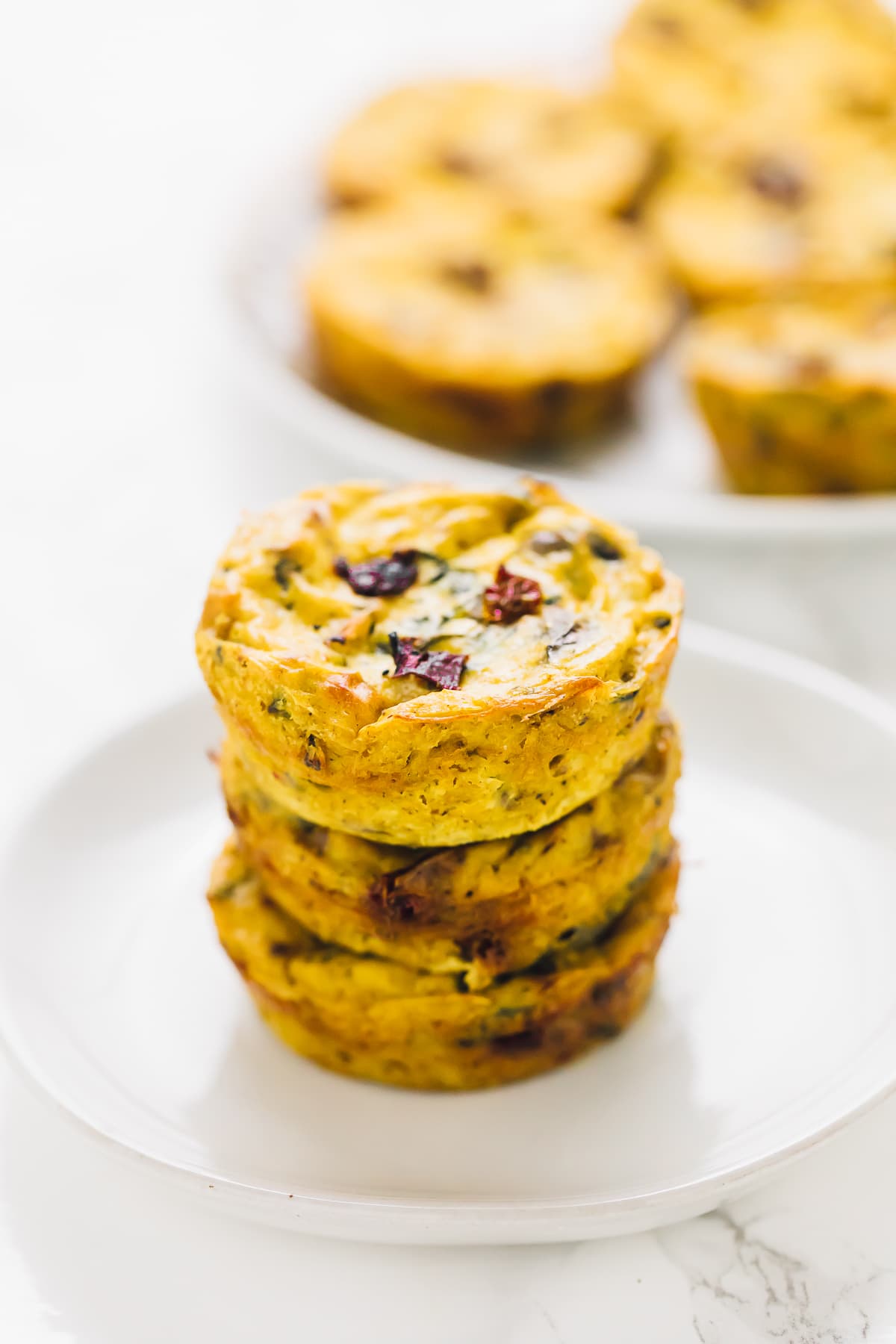 How many carbs are in Vegan Quiche Muffins?
This recipe is 2.6g of carbs and 1.1g of net carbs. If you want more info on what that means, be sure to check out our FAQ page.
These have definitely re-ignited my love of breakfast foods and I plan to work to share even more with you. These are a beautiful start and I can't wait to make a whole quiche for the upcoming holidays. Seems perfect for a breakfast or brunch or lunch (why not all three?).
Enjoy, friends!
Yield: 12 muffins
Vegan Quiche Muffins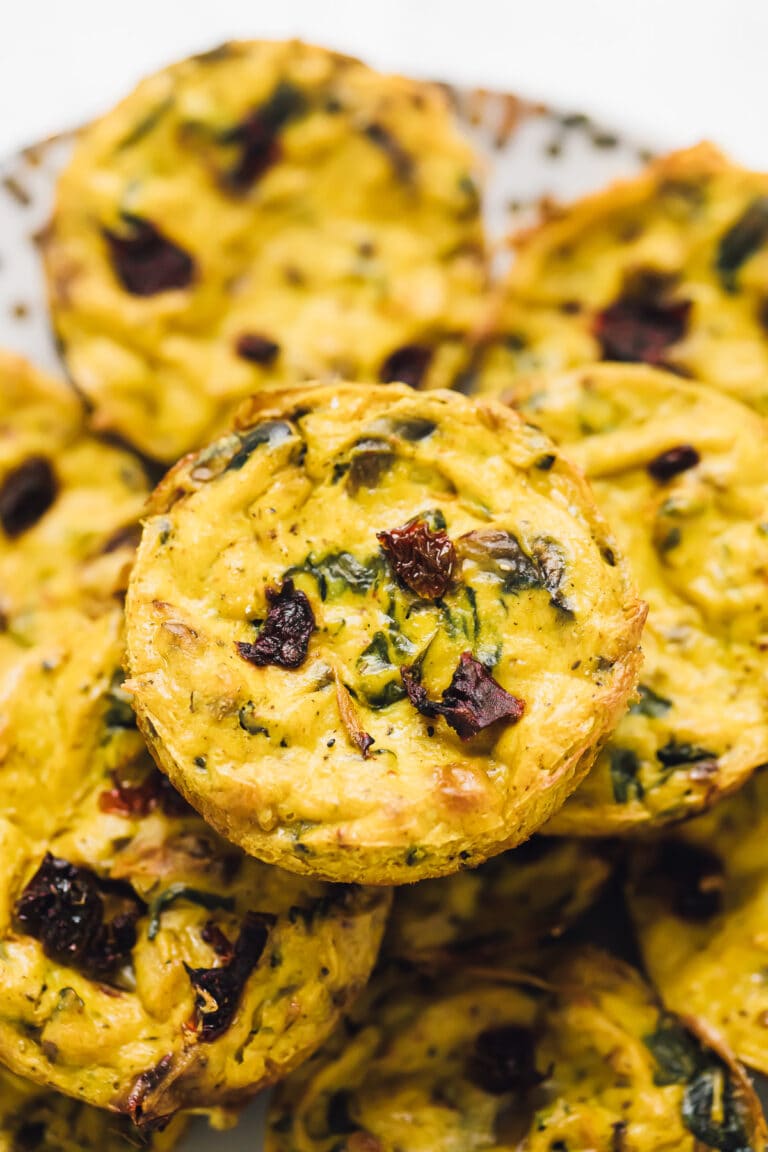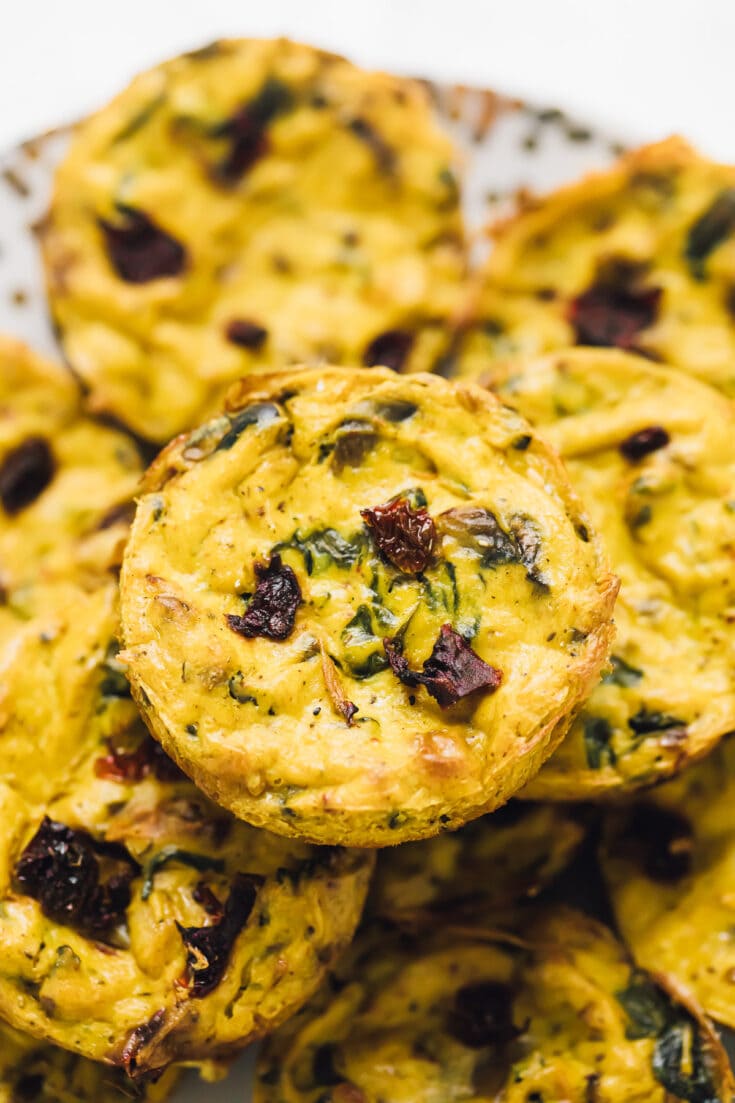 These Vegan Quiche Muffins Sun-Dried Tomatoes and Spinach are my current go-to breakfast and lunchbox snack! They are loaded with protein and so much flavour!
Ingredients
1 (1 lb.) block firm tofu lightly pressed*
1 tablespoon coconut oil or any oil
about ¼ cup (68g) chopped mushrooms
2 cups spinach
4 cloves garlic, minced
3 tablespoons chopped onions
salt and pepper to taste for the veggies
7 sundried tomato halves (49g), diced
1 cup unsweetened almond milk or any unsweetened nut milk
3 tablespoons nutritional yeast
½ teaspoon sea salt
¼ teaspoon black pepper
a pinch of turmeric for colour
1 teaspoon dried chives or 1 tablespoon freshly chopped chives
½ teaspoon baking powder
pinch of black salt kala namak - optional but adds eggy flavour
Instructions
Preheat oven to 375°F/190°C. Begin to press your tofu and set aside until you are ready for it. Grease a 12-cup muffin container and set aside.


In a pan over medium-high heat, heat the coconut oil. Add in the mushrooms, spinach, garlic, onions, and 6 of the 7 sun-dried tomato halves, stirring to combine with the oil. Season lightly with salt and pepper to taste. Allow to cook through until the onions are translucent, spinach is shrivelled and mushrooms shrunken, about 5 to 8 minutes, stirring occasionally. Remove from heat and set aside.


In a high powered blender, add the tofu, almond milk, nutritional yeast, sea salt and black pepper, turmeric, and baking powder. If you have any kala namak, add it now. Blend on high until everything is completely smooth and there are no lumps. I blended mine twice to ensure this.


Stir in with a wooden spoon all of the fillings from the pan, plus the chives to combine. You can taste here and decide if you want any more nutritional yeast or sea salt.


Spoon out the mixture into 12 greased muffin cups, trying to get an even amount of toppings in each. Top each cup with the last of the sun-dried tomato half.


Bake for 35 until quiche muffins until a toothpick stuck in the middle comes out mostly clean. Remove from oven and allow to rest for 5 minutes on the counter in the pan. Then, loosen edges with a knife and remove onto a wire rack, so that they can cool completely without getting soggy.


Serve while still warm, or while cold, and enjoy!
Notes
*If you have a tofu press, don't push it down all the way. If you're using the books and paper towel method (wrap a tofu block in a few layers of paper towel or a kitchen towel then press with books), you only want to press for about 5-10 minutes, not much longer.

Kala Namak is an Indian spice that adds a lovely eggy sulphur flavour to any vegan egg dishes. It is very powerful so only add a small pinch into your recipes. If you don't have any, that's also fine – it's optional.
Nutrition Information:
Yield:
12
Serving Size:
1
Amount Per Serving:
Calories:

53
Total Fat:

3.2g
Saturated Fat:

1.2g
Cholesterol:

0mg
Sodium:

136mg
Carbohydrates:

2.6g
Net Carbohydrates:

1.1g
Fiber:

1.5g
Sugar:

0.4g
Protein:

4.1g